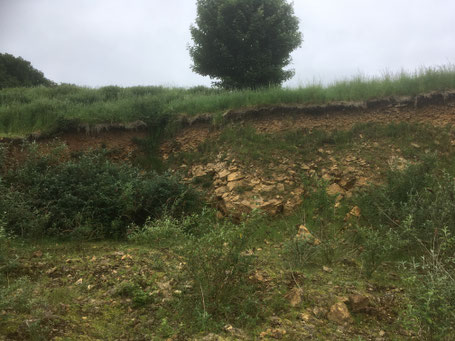 Working as engineering geologists we never really know where the next site will be.  Some are grotty city centre sites with fly-tipped rubbish and limited access, but we really hit the jackpot recently with this site in the Cotswolds. 
Nestled right in the centre of this Area of Outstanding Natural Beauty, near Moreton-in-the-Marsh, between the towns of Oxford, Witney and Banbury on the east and Gloucester, Cheltenham and Worcester on the west; this site was located on the side of a valley with breath-taking views.
The site geology was limestone over clay/mudstone and it was proposed to build a detached house in an old excavation into the slope. 
Our site investigation concentrated on the stability of site, as geological process such as solifluxion and valley cambering can lead to unstable near surface soils and/or gulls and fissures with rock quality strata. 
We undertook boreholes, trial pits, rock surveying, BRE365 soakaway tests and extensive geotechnical laboratory testing to give the structural engineers advice and soil/rock strength parameters, to enable them to design a safe and stable structure.  But we had a thoroughly fun time doing it too!!