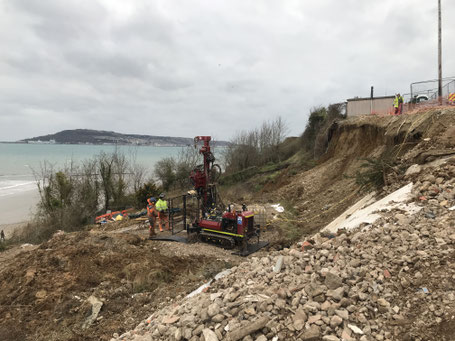 We have recently undertaken a combination of modular window-sample boreholes, dynamic probing at a beachfront landslip in Weymouth in Dorset.
The south coast and in particular the Jurassic coastline present many geotechnical hazards when undertaking a ground investigation, due to the wide variety of interbedded soils and rock encountered.
Modern drilling techniques such as modular borehole rigs, allowed us to undertake testing along an active land slip, in extremely uneven and steep terrain from clifftop down onto the sandy beach below. 
A twenty metre deep borehole was drilled using a state-of-the art Dwarf Rotary-Sonic drill rig, positioned upon the notorious landslide, recovering information down to eight metres below sea level through soils, stones and into rock-quality Jurassic limestone of the Corallian Group.  This slope stability investigation was undertaken in order to help define slip-planes, identify competent strata for future foundations and provide parameters to Remedy and remediate the ground instability failure issue affecting the local community.  
Here at Geo-Integrity Ltd. we have a good experience of site investigation techniques and a wide network of high quality trusted contractors.  This means we can provide you with a good value, timely, pragmatically designed, first grade ground investigation.  Contact us on info@geo-integrity.co.uk or 01280 816409