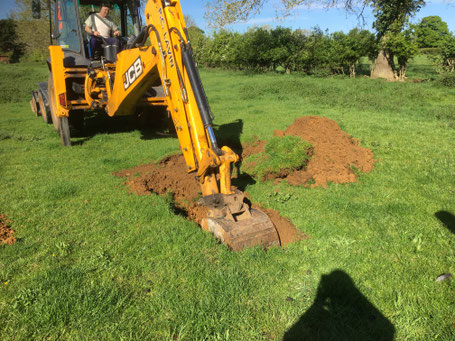 We had to carry out Phase 3 supplementary site investigation on a site near the Buckinghamshire/ Northamptonshire border this month.  We had previously undertaken a Phase 1 Desk Study and Phase 2 Ground Investigation for a proposed residential site.  The investigation incorporated continuous tube boreholes to 6 metres with SPT testing, in-situ plate bearing testing for CBR values and modulus of sub-grade reaction, trial pits for soil description and contaminated land testing and some shallow BRE365 tests for design of permeable paving and shallow soakaways.
The desk study had indicated that the site was located on Glacial Sand and Gravel, so we were hopeful that the low level BRE365 tests would work.  However, the near surface soils were clayey with sandy gravels only coming in at about 2.80m below ground level.
As such, we returned to site this month to carry out deeper BRE365 tests using the gravel infill method (as deeper soakaway testing is both too dangerous and prone to sidewall collapse).  We excavated the pits down to the sand and gravel, installed a monitoring pipe, infilled the pits with pea gravel (to stabilise them) to a certain height and then backfilled with arisings so the test locations were level and safe.  The BRE 365 tests could then be carried out easily from ground level.  We installed and tested three locations across the site enabling the client to design their drainage strategy and save money on surface water disposal.