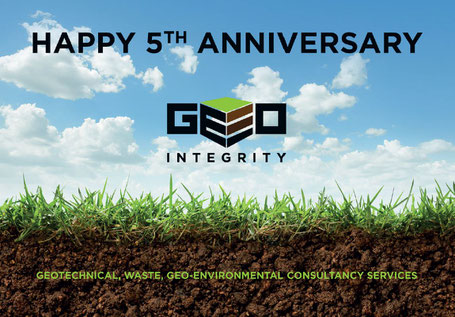 5 years ago Geo-Integrity Ltd. was set up to provide site investigation, geotechnical and geo-environmental services to clients around Milton Keynes,  Buckinghamshire, Northamptonshire, Oxfordshire, Berkshire, Leicestershire, Bedfordshire, Warwickshire, The Cotwolds and beyond. 
We started in a home office, using the garage as a soil store and logging shed and with my Peugeot estate as the site vehicle.  We now have 6 employees, 3 vehicles and rented offices near Towcester.  
To date we have done over 700 jobs, from small domestic extensions to large industrial parks, new schools and residential housing estates.  
We continue to put a large emphasis on the development and growth of employees with Danny doing a post-graduate degree and having become chartered during his time here; and both Lee and Fiona actively pursuing chartered status with The Geological Society, both active members of AGS Working Groups and attending regular CPD courses.
All of this would not be possible without the trust and support of all our clients and suppliers over the five years.  So we just want to take this chance to say a massive..
THANK YOU EVERYONE