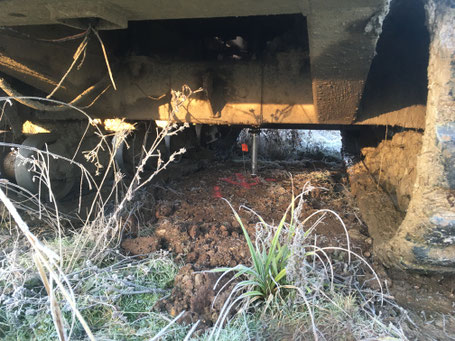 We recently undertook bespoke testing for a client on a site with difficult and problematic ground conditions.
A prime development site located on an old borrow pit in Leicestershire, which had historically been backfilled was in need of site investigation, to aid foundation design.
Whilst approximately 15m of Made Ground fill was present beneath the site, the backfill material was of good quality and consistence, and had likely been somewhat engineered, and re- compacted.  However, no evidnce of the method or results of the compaction had been provided by the site vendor.
Geo-Integrity were able to undertake a bespoke investigation at the site over two days putting down 12 Cone penetration test probeholes. CPT tests provide a wealth of soil parameters that in this case will be used to design a ground improvement scheme to allow construction of foundations and a floor slab across the thick Made Ground, saving the client money on more expensive options.
An added complexity to the works was the restricted access of the site, and water-logged conditions present on the site back in December 2021. These obstacles were overcome with the deployment of a 20Tonne all-terrain-vehicle operated by one of our trusted contractors, across a site which would otherwise be inaccessible for 6 months of the year.
If you have any ground related problems on one of your site; from contaminated land to foundations, or from waste soil to drainage; drop us a line on email using this link or call 01280 816409