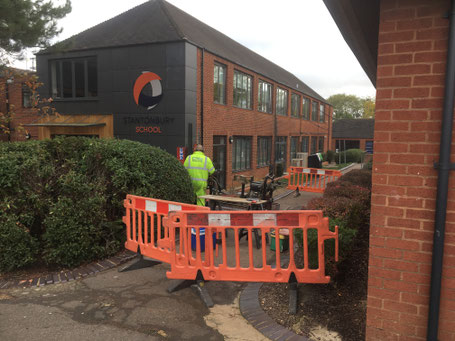 Here at Geo-Integrity Ltd. we understand certain sites can be more sensitive than others. Over the years we have conducted many ground investigations for school developments which require that little bit more planning to ensure the safety of both the staff and pupils. It is often the case ground investigations need to be tailored to school holidays for obvious health and safety reasons.
Recently we have undertaken ground investigations at schools across Northamptonshire, Buckinghamshire, Oxfordshire, Norfolk, Yorkshire, Merseyside and Milton Keynes to address planning conditions by completing geo-environmental assessments and providing geotechnical design parameters for foundations. The school developments we have had the pleasure to be involved in include developments such as modular school buildings, school hall extensions, new Astroturf pitches and drainage soakaways.
On our recent school developments we have undertaken boreholes using an array of methods including cable percussive rigs, sonic rigs, window sampling rig, and hand-held boreholes for the sites which pose limited access.  We can create safe working areas by setting up perimeter fences which is necessary when undertaking ground investigations in sensitive areas.
As of 2023 our engineering geologist's at Geo-Integrity are now DBS checked to make organising ground investigations at schools that little bit easier.  If you require a ground investigation at a school or other potentially sensitive sites give us a call on 01280 816409 or email us to see if we can help you.