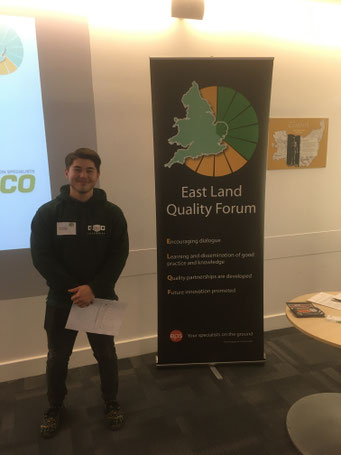 Here at Geo-Integrity we specialise in a range of construction based advice to suit our clients needs, from insitu geotechnical advice of foundation types and depth;  human health risk assessments for possibly contaminated soils on your site; or waste soils and construction waste. 
In order to keep up with the latest legislation and guidance, and to ensure the advice we give is the best it can be, the company encourages everyone to follow the Geological Society's CPD program.  Continuing Professional Development (CPD) is a structured learning program for professional geologists to maintain and develop the standards of technical and professional competence required for their work.
This week we have had three members of our team in attendance at the East Land Quality Forum; including our newest member of Geo-Integrity, Alan Phillips; to share information on current industry standards, requirements and emergent assessment techniques on waste soils and re-usage.
Next week Murray, Danny and Lee will be attending the SEMLEP "Growth Curve" Workshop, being held at the University of Bedfordshire.  This will help with developing a long-term growth plan for the company, and give our employees an understanding of how to develop this using SMART objectives and KPI's.
If your development site has any ground investigation needs, then please contact us on 01280 816409 or email us on info@geo-integrity.co.uk  and we can assist with our wide range of soil specialists, and chartered geologists.